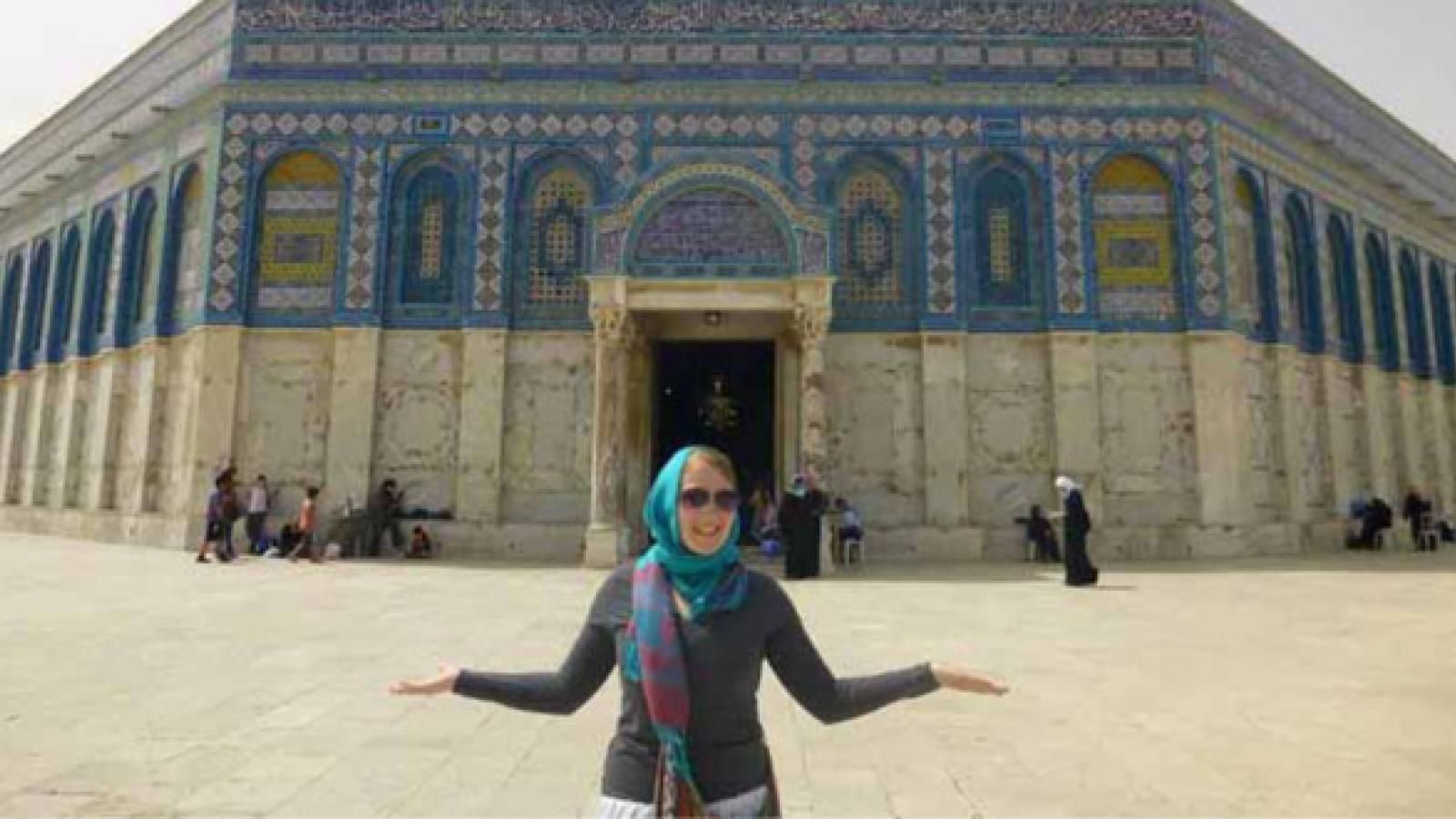 Body
Brianna Baar is a senior majoring in Middle East Studies. She was awarded a Foreign Language and Area Studies Fellowship through the Middle East Studies Center for the 2013‐14 Academic Year. She has shared her FLAS essay below.
"I have wanted to learn Arabic for years. When I was a sophomore in high school, I wanted to go into politics, and I thought a good way to stand out would be to learn Arabic. And from then on, though my goals and ambitions have changed, my desire to learn Arabic has remained. I love the language, and though it often frustrates me to the point of wanting to throw my textbook across the room, I am not going to quit. I have had my heart set on knowing this language for years. I know that the road ahead of me is long, but I want to be fluent. And honestly, I take a fair amount of satisfaction from the impressed look on people's faces when I say I'm studying Arabic. I listen to Arabic pop music and Al Jazeera and YouTube videos, to both train my ear and try to pick out things I can understand. I think the language is beautiful, I love the rawness of the sounds, and I love its rich history. I love how I have to really focus and use my brain to read the script because of the similarity of the letters. I love how the structure of the verbs make so much sense and that I can play with and twist the meanings of words. I anticipate that by Autumn 2013 I will be at an intermediate level. As far as language proficiency goes, I will have completed Arabic 2104.
I am attempting to graduate a year early so I can begin working on a Master's degree in Social Work and continue with my Arabic. I plan to focus my studies on helping immigrant and refugee populations here in the United States. After this, I would like to do the bulk of my work domestically working with immigrants and refugees from Arabic speaking countries. Whether they are Palestinian, Syrian, or Iraqi, I would like to help them. With all of the turmoil in the Middle East, I can only imagine that the number of people fleeing their homes will increase. I would like to work for United States Committee for Refugees and Immigrants, or some private NGO, or even a small social work firm.
I understand that most of the FLAS Fellows are for people planning to work abroad, which of course is very important for national security as well as foreign relations. But I also believe that it is equally vital to have people in the U.S. who are capable of assisting immigrants and refugees with adapting and assimilating into life here. My assertions are supported by an encounter with a coworker I had in the past year. One day last fall as I was working in the MESC office, a woman who works somewhere in Oxley Hall came in and asked to speak to the Assistant Director. She was wondering if we could donate some Arabic dictionaries to a woman in her church who volunteered to help a group of Arab immigrants. She didn't speak a word of Arabic herself and she was struggling to help them with the many obstacles they faced as new immigrants and teach them English. While this is extremely admirable of her, I had to wonder if there was no one else who was better equipped to assist these people. Even if my career takes a different turn and it is only something I am able to do on a volunteer basis, I want to be able to use my Arabic to help people.
Learning Arabic is not easy. I struggle with it every day. It is something that I do not have a natural aptitude for, but if anything, the challenge makes me want to continue with it even more, because the more difficult it is, the more I will feel I have achieved."