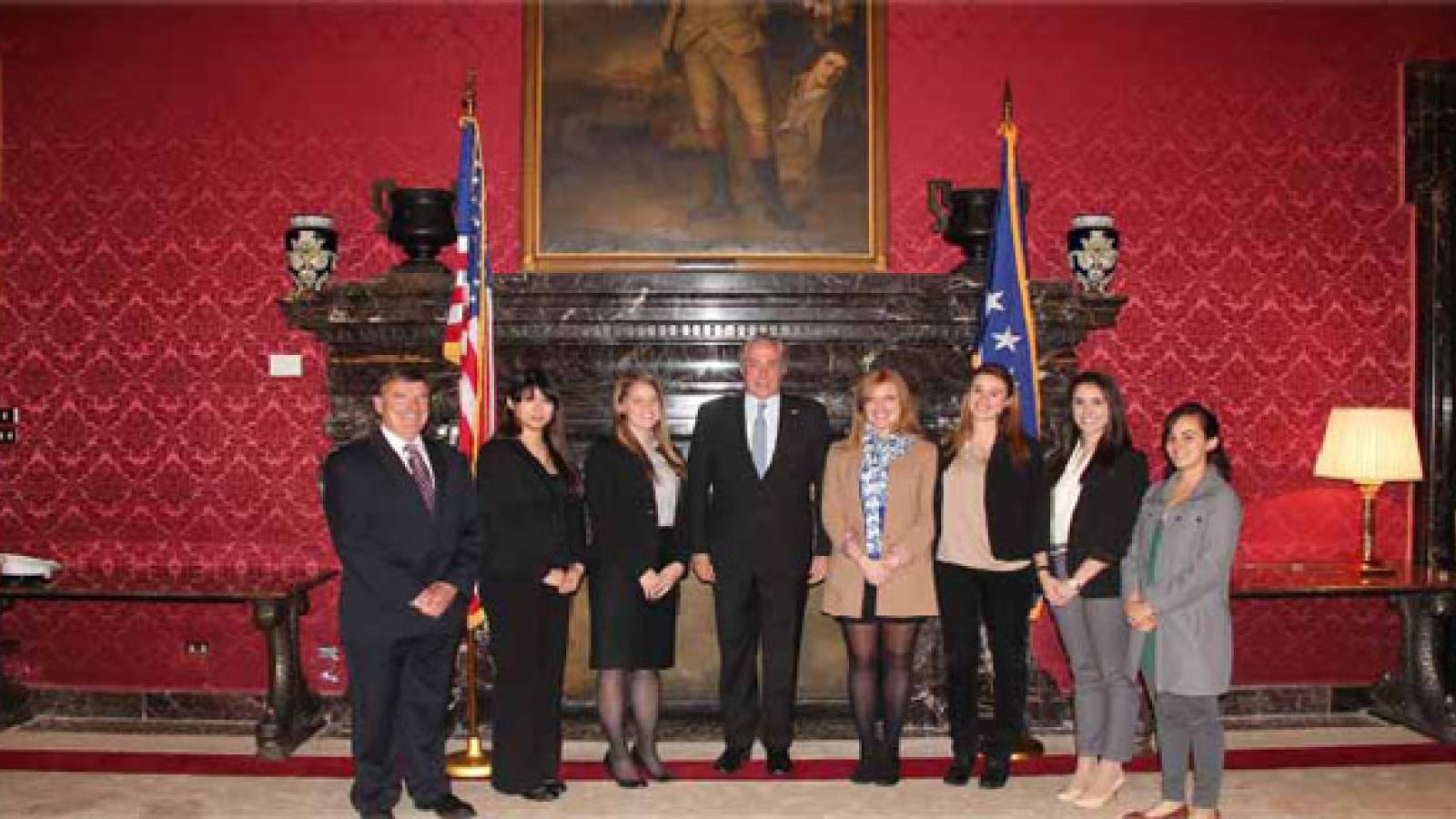 Body
Kaitlin Cutshaw
"Last summer, I was lucky enough to participate in the short‐term study abroad program called Literary Locations which encompass an English literature class taken Spring quarter followed immediately by a ten day trip to Rome. Though the class along with the trip was an immensely rewarding and interactive way to discover a new city, this is not a plug for the program but rather a story about how it lead me to another amazing adventure.
One night on the trip we went out to explore the city and ended up walking past the American Embassy located on the former haunt of the rich and famous, Via Veneto. As I walked past the brightly lit compound, glowing impressively in the night, I made a silent vow to some day work there. As soon as I returned from the trip I searched the internet for any sort of internship or job opportunity at the Embassy and was of course directed to the U.S. Department of State's website which details a number of opportunities for undergraduate college students including fellowships, clerical positions and internships. I soon learned all about their Internship program for undergraduates and started the application process. The program offers both domestic and overseas internships all year round and gives the applicant the opportunity to choose what bureaus or posts at which they would be most interested to work. I, of course, selected the Rome Embassy and a couple months later, to my overwhelming excitement, received an internship offer for my first and only choice.
Back in August, when I had formally accepted the internship, it was hard to believe that I was going to realize my life‐long dream of living in Italy, and now that I'm actually here, it's still hard to grasp! Growing up, the Italian American culture was an ever‐present influence on my personal identity, fed (sometimes literally in the form of my grandmother's homemade manicoti) by my mother's side of our family. As a freshman in college I was excited by the opportunity to embrace my heritage even more through Italian language courses, which, unbeknownst to me at the time, would prepare me for my future internship. Three years later, I'm here in Italy, living my dream and gaining invaluable insight into a possible future career.
As una stagista at the Rome Embassy, I worked in the Consulate building in the Non‐immigrant Visa Section also known as NIV; one of the many government acronyms I had to become familiar with. The primary job of NIV is to oversee all foreign nationals applying for visas in order to travel to the U.S. Most often, these applicants were Italian citizens travelling to the U.S. for business or pleasure, but for more than 90 days. It was also common to see a large number of applicants applying for visas to work, study or participate in an exchange program at an American school. As part of the application process, most people applying for visas are required to appear at the Consulate for an interview. I was lucky enough to observe a good number of interviews before the Consulate closed to undergo renovations. I closely shadowed the Foreign Service Officers trained to be Consular Officers as they interviewed not only native Italians but also people of many different backgrounds and nationalities. It was amazing to see and hear the story of each applicant and their purpose for travelling to the United States. Many were graduate students or high school exchange students travelling for academic enrichment, research aspirations, and quite often with an enthusiasm to improve their English.
After the closing of the consulate, with most non‐immigrant visa applications handled by the other three consulates in Italy, the Rome visa section held interviews for emergency situation applicants as well as for diplomatic and treaty investor visa applicants. Throughout the internship, I was able to pick up more and more quickly on the many different types of visas available for foreign nationals. I learned a great deal about the standard procedures for visa processing in Rome and also in other U.S. Consulates all over the world.
NIV works in close connection with American Citizen Services or ASC, another section in the Consulate, which allowed me to get a glimpse of some of the work they do in that section. One of the most exciting moments, that I was lucky enough to get the behind-the‐scenes perspective on, was the tragic Costa Concordia shipwreck in January. Rome Embassy played a leading role in providing aid and services to the Americans who were aboard the cruise liner; many of which had lost all personal items aboard including passports and travel documents. ACS enlisted the help of NIV for extra manpower to tackle the emergency. After seeing first‐hand and hearing about the emergency response, I was amazed by how important the Embassy and the Rome Consulate were in handling the unfortunate event.
Though I learned a great deal about the inner‐workings of an American Embassy; how the different offices work together to carry out U.S. foreign policy especially the Consular section, I have to say that it was really the people that made my experience unforgettable. On my first day at the Embassy, the walk up to the wrought‐iron gates, patrolled by stern‐faced Italian guards, that surround the compound was quite a humbling experience. I was mentally preparing myself for an all‐business, no nonsense job, where I'd be expected to prove myself worthy to be a part of the U.S. Government's diplomatic mission.
Looking back, this thought is almost laughable. It was amazing how the nature of the Italian culture and way-of‐life had infiltrated the Embassy (in a good way of course) to encourage a much more, dare I say, laid back atmosphere. I don't want to give the wrong impression (or get in trouble from my supervisor) because all the Embassy employees were truly hardworking people and devoted to strengthening Italian American relations and representing the U.S.; but I was not expecting them to be as warm and welcoming as they were. A big part of this focused yet relaxed environment may have been that over half of the employees at the Embassy are Italian. This definitely held true in my section, as only three of the nine employees in my office were American. In addition, every person I met at the Embassy, American or Italian, had an amazing story. Many of them spoke multiple languages, had traveled all over the world, and had done amazing things. It was very inspiring and motivating to work every day in the same building as such accomplished people.
In general, just having the opportunity to step on the grounds of the American Embassy in Rome was such a great honor. The Ambassador's office sits in a building called Palazzo Margherita, a historical gem that dates back to the 1880's when it was used as the royal residence for Queen Margherita of Savoy. This building, called The Chancery, stands majestically as the main building on the grounds surrounded by even more beautifully built offices adorned with fantastically old statues and decorated with elegant detail and impressive works of art. Aside from the honor of working in such a historical and beautiful place, the added perks, like access to the on‐site gym, Italian style café, commissary where American grocery products could be bought, a health unit and special discounts for sightseeing and other community events in Rome, were pretty great as well.
Outside of work, I had the opportunity to explore one my favorite cities even more. Rome is not easily described in few words but I admire it for not only its historical prominence but also its vibrantly crazy and exciting culture. I had the opportunity to travel around Italy and to other cities in Europe such as Paris and Barcelona while I was there, but I always loved coming back to Rome. I just felt comfortable there; I knew the city and how to get around, I knew the language (well, relatively), and I felt I related to the people. Coming back to Rome, was like coming home."