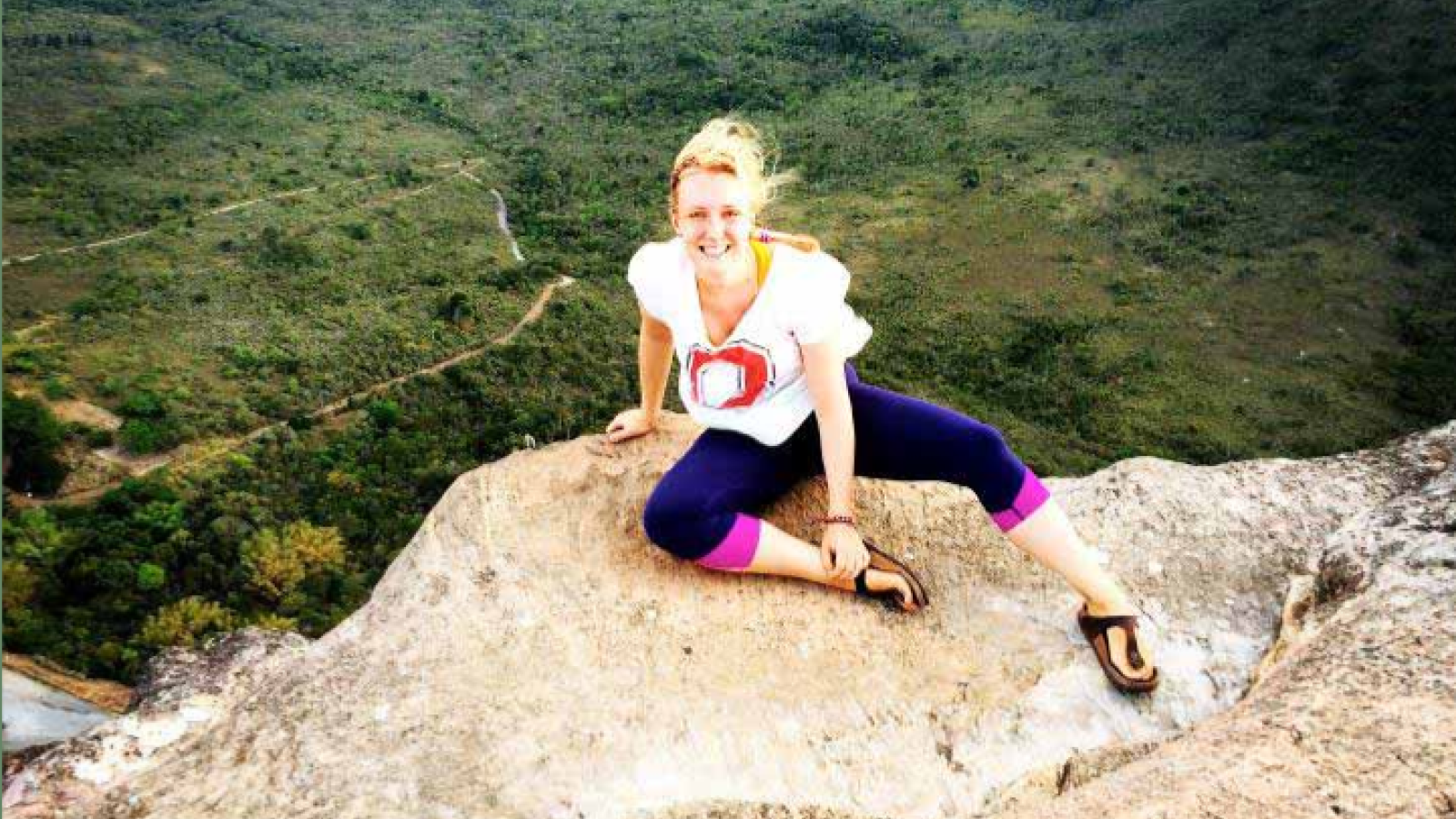 Body
Latin American Studies
Jennifer Janson
Jennifer Janson (pictured above) graduated this Spring 2015 with majors in Security & Intelligence and Comparative Politics, and minors in Portuguese and Religious Studies. Jennifer was awarded a year long Foreign Language and Area Studies (FLAS) fellowship through the Center for Latin American Studies at the Ohio State University, which paid for her tuition and fees!
"For as long as I can remember, I have had a great passion for language and culture. Although I hail from a small town in Kentucky, I have already taken advantage of many international experiences I would have never thought possible. Through my travels for pleasure, study, and volunteer work, I have been able to visit China, France, Italy, and Brazil. My travel to Brazil is the reason I developed such an undeniable love for the Portuguese language and affinity for the culture. It was not until my junior year in high school when I had an amazing teacher who set up an exchange between my all-girl Catholic school and our sister school in Brazil, that I discovered the Portuguese language. Six girls were chosen to go, and for a month we lived with host families and went to school during our summer break. That winter, they came to visit us and did the same."
For me, Portuguese had something that Spanish lacked; the pronunciation was captivating and the language seemed more foreign. Therefore, although I continued to study Spanish for the remainder of my high school career, I knew that the presence of a Portuguese program would be a deciding factor in my college decision process. I still remember seeing all of the choices for languages at Ohio State, and that was a huge selling point during my tour.
Presently I am a third year at The Ohio State University pursuing a double major in Political Science and International Studies with minors in Comparative Religions and Portuguese. Upon arriving at OSU, I took a placement test and received credit for Portuguese 101 on the quarter system, but decided to pursue Portuguese classes for Spanish speakers.
I believe I am deserving of a FLAS fellowship because I truly love the language, and I want nothing more than to someday get a job where I can really put it to use. Since moving from Kentucky to Columbus to attend college, I have had so many amazing opportunities to get involved in the international community. I am in the International Affairs Scholars program, a Sustainability Cabinet member of Undergraduate Student Government, a member of the Bucket and Dipper Junior Honorary, and currently work as a Peer Advisor in the Office of International Affairs on campus. Last semester, I had an internship with CMAA (Cambodian Mutual Assistance Association) Refugee Services, where I taught both citizenship and ESOL (English for Speakers of Other Languages) classes to refugees from all over Africa who live in the Columbus community.
Ultimately, a FLAS fellowship would help me with my life goals by providing me with a chane to better my language skills in a real-life environment. My dream job would be that of a U.S. Ambassador, or to work in the office of one. I am also very interested in working for the United States government, which is why I decided to pursue a specialization in Security and Intelligence for my International Studies major. It would be pivotal for my academic goals as well, as I plan to graduate with a Portuguese minor, and hopefully go on to graduate school. I know for certain that I want a career in which I can use my language skills on a daily basis.
When pondering the future, one of my favorite quotations comes to mind:
'Don't ask yourself what the world needs. Ask yourself what makes you come alive and then go do that. Because what the world needs is people who have come alive.'
- Howard Thurman
South America is one of my passions. Languages make me come alive. This award would not be lost on me, as I have inexorable love for the Portuguese language and I will use it for the rest of my life."