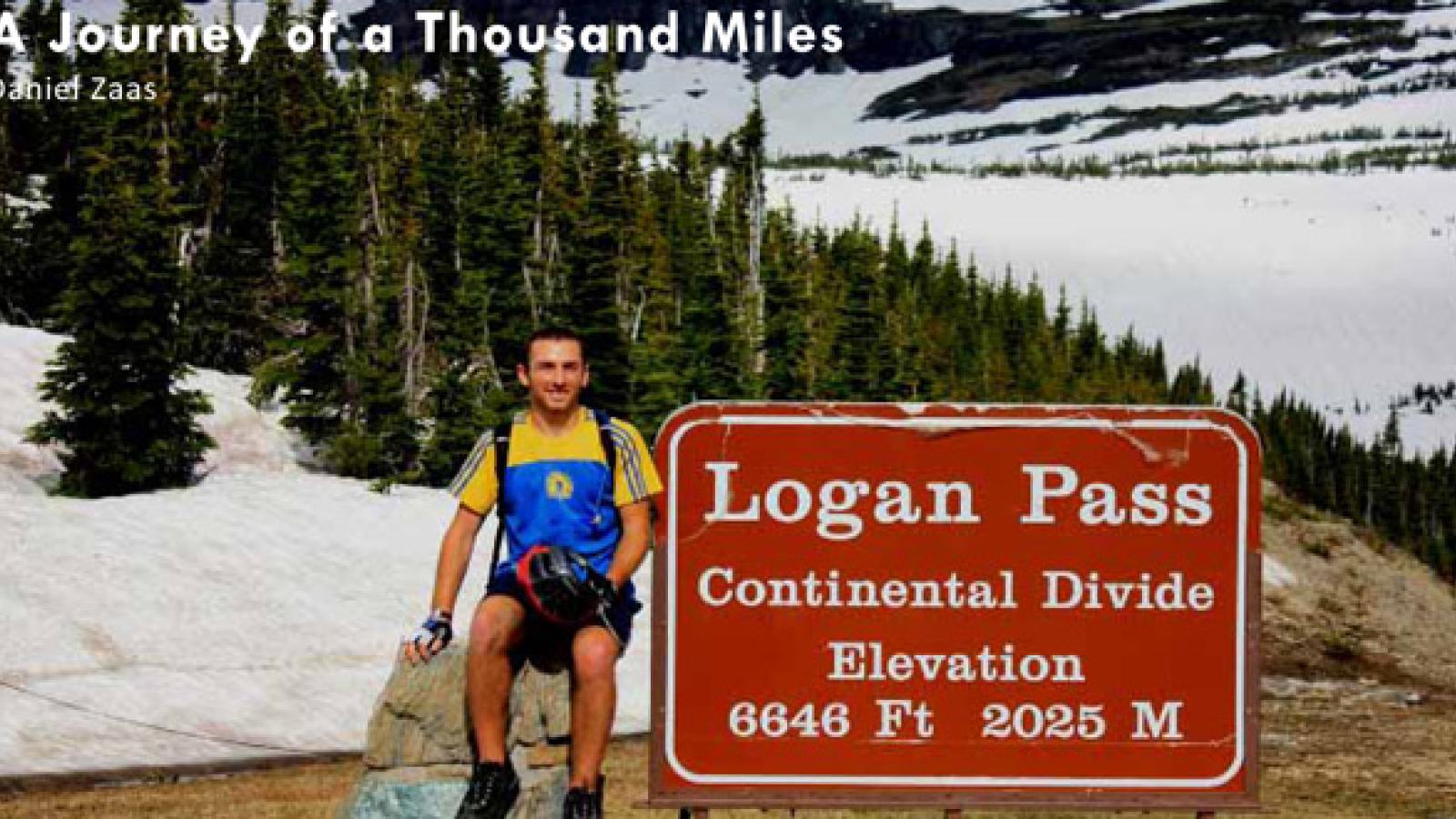 Body
Daniel Zaas is a senior majoring in Development Studies. Over the summer he biked across the U.S.! Here is his story.
"Laozi, a 6th Century BCE philosopher, said: "A journey of a thousand miles must begin with a single step." Well, for my high school teammate Ethan and I, it was three thousand miles and instead of a step, it was a pedal. It all started the morning of June 12, 2012. We had just hopped off a train near Mt. Vernon, Washington, a few miles from the Pacific Ocean. After loading our bikes with about 50 pounds of gear we took our first shaky pedals on our journey home to Cleveland.
We averaged riding about 60 miles a day however days ranged anywhere from 20 to 90 miles depending on the terrain. We carried all of our food, which usually consisted of Pop‐Tarts for breakfast, peanut butter on tortillas for lunch, and mac and cheese for dinner. We also carried a tent, sleeping bag, and our clothing which we washed maybe three times over the 57 days we were gone. At first we slept in campgrounds but after a tip from a fellow cross‐country biker we learned that many small towns would let us camp in their public parks for free. Our third option was to scout out a friendly looking local near the park and they would often let us sleep in the backyard. A few people even took pity on us, and allowed us to sleep in their homes and provided us with food.
Our route was to take us through the states along the Canadian border until we hit home in Cleveland. The highlights of the trip included riding through and hiking in the North Cascade National Park, Glacier National Park and Teddy Roosevelt National Park, traversing the Rockies (including a 30 mile, 4000 foot ascent followed by about a 15 mile, zero‐pedal, descent one day), riding 90 miles in Montana to make it to a decent town for a surprisingly good 4th of July fireworks display and our traditional post ride ice cream treat which happened nearly every day. Honestly, the biggest highlight of the trip was the incredible people that we met along the way. A surprising amount of people bike across the country every year, and it is great fun to ride with them for a few days or to unexpectedly run into them. The best example of this was when we ignored a detour sign in Minnesota. We ended up having to walk our bikes through a couple miles of sand only to run into another group of bikers, who we had first met and last seen struggling up a mountain pass in Washington. It was amazing to see the biking community that the cross‐country route has created. There are so many people paying it forward because one day they were helped out on their bike trip. I wish I could tell all their stories but it would take volumes.
So, 57 days, 3162 miles, and many, many pedals later, we rode into our driveways as if coming back from any other ride. The ride took a toll, both physically and mentally but was worthwhile in every imaginable way."