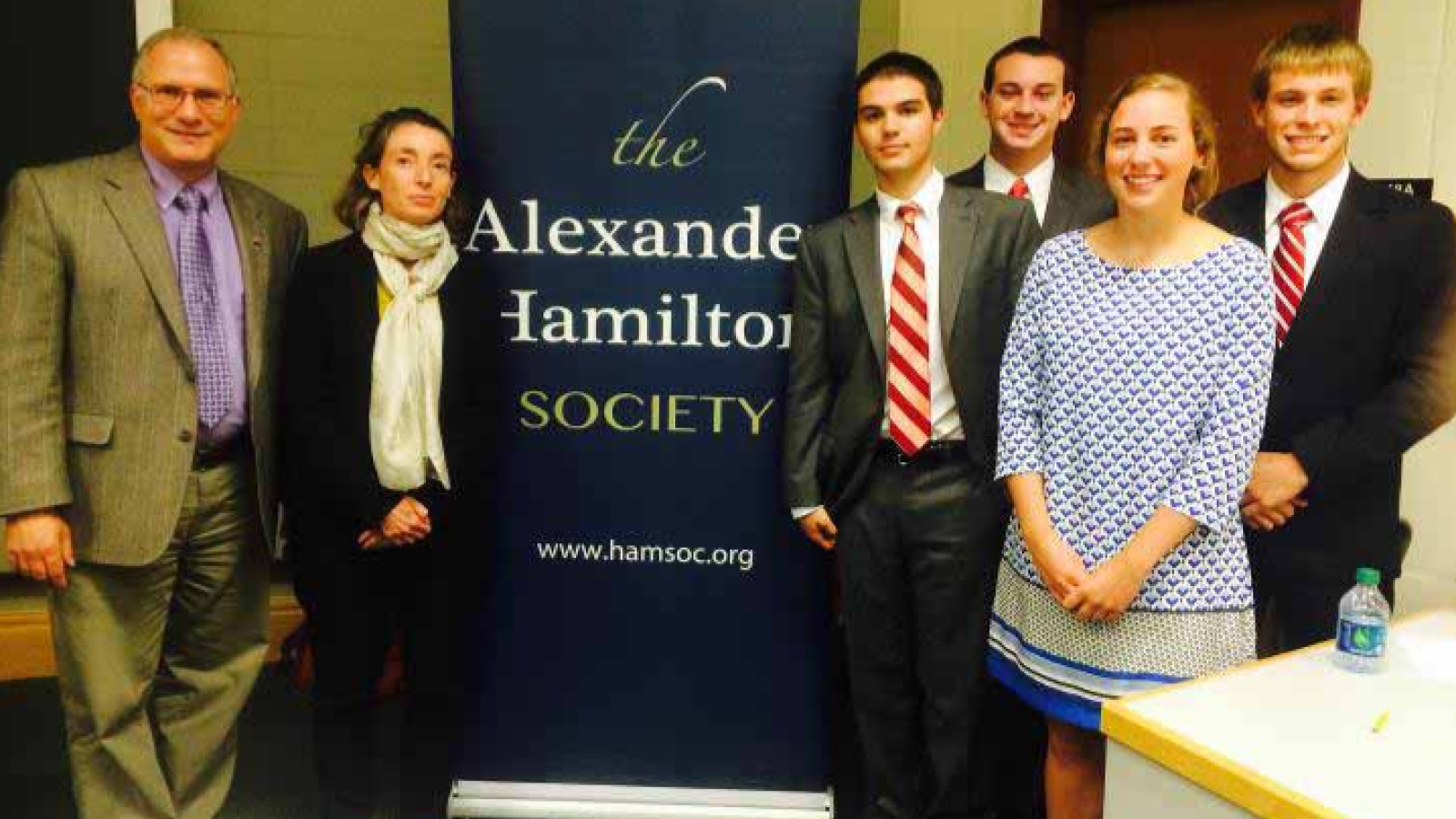 Body
Consider joining the Alexander Hamilton Society! The Alexander Hamilton Society is a non‐partisan, non‐profit nationwide organization on that has branches at various university yes across the country. Our mission is to promote debate and intellectual thought on national security, economics, and other pressing world issues. Our chapter here at Ohio State was the top chapter in the 2013‐14 year, and is on track to be on top again for 2014-15. We hold small group discussions and larger speaking events featuring many distinguished speakers throughout the school year.
This last semester, we had speaking events on  topics such as Islamic extremism in Africa (Boko Haram), the prospects for peace in the Israel‐Palestine conflict, and economic tumult in the EU. The crowning moment of the semester was when six members of AHS traveled to Simi Valley, California to attend the Reagan National Defense Forum, and hear from such distinguished guests as former Secretaries of Defense Leon Pantta and Robert Gates, Senator John McCain, and former House Majority Leader Eric Cantor. Another cool aspect to AHS is that our faculty advisor is Professor Peter Mansoor (left in photo above) who was General Petraeus's Executive Officer in Iraq and is a regular CNN military analyst. Dr. Mansoor also serves as a professor of military history here at The Ohio State University.
If you are interested in the Alexander Hamilton Society, our meetings are held on Wednesdays at 6:30pm, with speaking events happening throughout the semester. To be added to our email list, please express your interest in an email to osuhamsoc@gmail.com or contact the President, Clayton Sharb  at sharb.11@osu.edu.