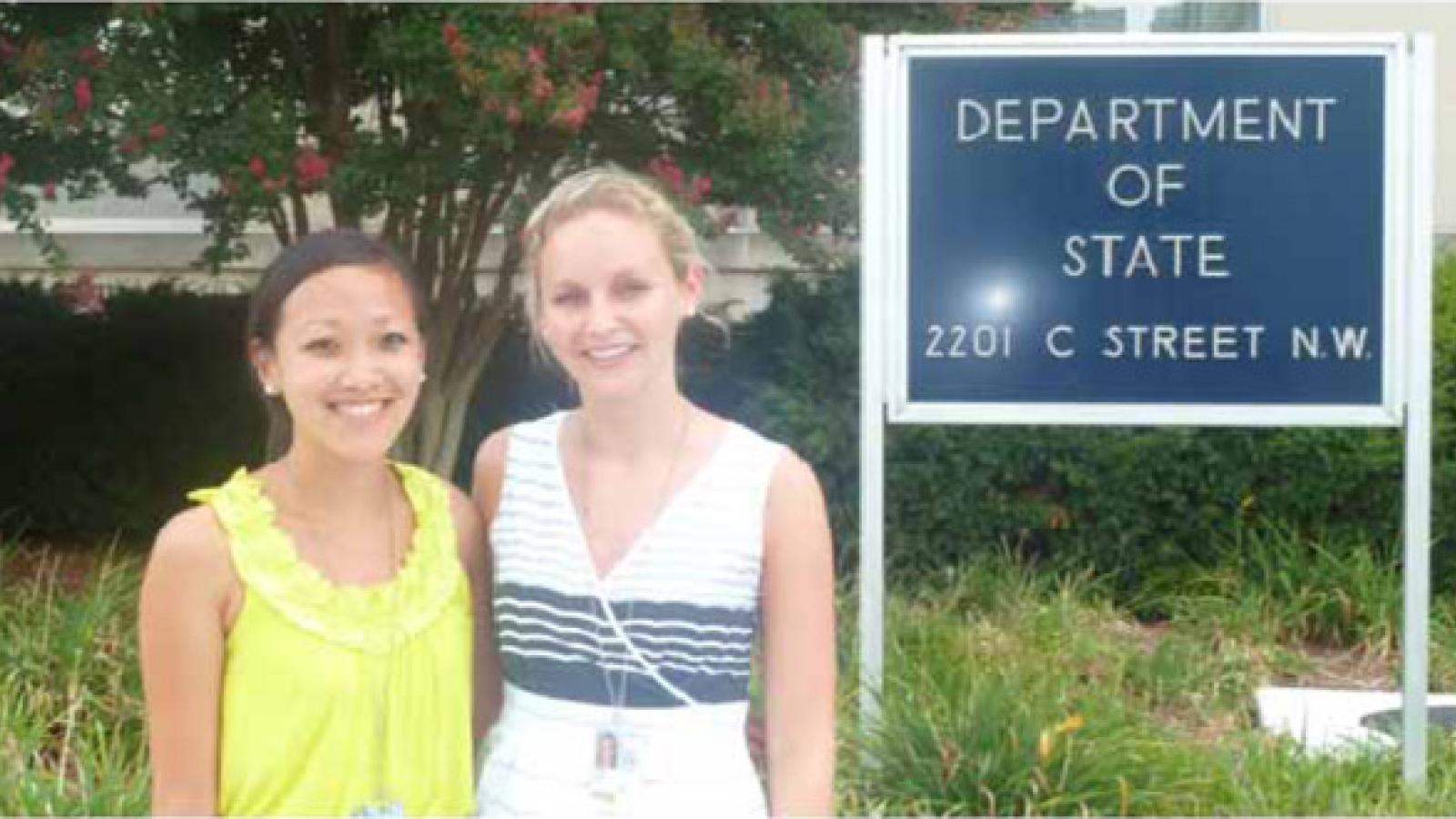 Body
Tess Eckstein
"I was as prepared as I could have been for the start of my internship at the United States Department of State (DOS): I had purchased and loaded money onto a metro card, made a test run to the building where orientation was to be held, completely moved into my new apartment, packed my lunch, and grabbed a few pens and a notebook. But for some reason, I still felt so unprepared, and I was brimming with questions. Per usual, I arrived early. Orientation began at 8am, the doors opened at 7:30, and there I was, waiting outside at 7am sharp. Fortunately, there were three other girls already there. I sat down next to one on a bench outside the American Foreign Service Association, and we introduced ourselves. It wasn't long until we connected the dots and realized we were both from Ohio, we were both rising seniors at The Ohio State University, and we shared a common major, International Studies. I was reminded once again how lucky I am to able to run into a fellow Buckeye almost anywhere I go in the world, and that was enough to settle my nerves until orientation began.
By the end of the day, I had been moved to the Harry S. Truman building, also known as Main State, where I was introduced to everyone in my office in the Bureau of East Asian and Pacific Island Affairs and was led to my desk in the section I would learn to call home, Australia, New Zealand, and Pacific Island Affairs. I filled the seat of the New Zealand desk officer who had just moved on in her series of rotations. Its previous occupier was in fact the woman who had hired me in the winter, but summer is the most popular time for turnover at the DOS, so Foreign Service officers are constantly rotating between posts. I only had about two hours left in the day, so I cracked open some books about New Zealand and its neighboring South Pacific Islands and began to soak in valuable information concerning an area of the world about which I certainly could not call myself an expert.
My first two or three days on the job consisted of a lot of catch up, studying, becoming acquainted with the office and my position, and getting computer logons, an official badge, and other necessities. As soon as that fourth day rolled around, however, I hit the ground running and never slowed down. I was immediately assigned three papers to write for Secretary of State Clinton and enthusiastically assumed the responsibilities of a seasoned Foreign Service Officer.
For those of you who do not know, the internship program at the State Department is actually designed to treat interns as Junior Officers. Interns are given as much responsibility as they can handle, and if they have the stamina, the work will never stop coming. I learned over the summer that not all interns appreciate the constant deluge of information and assignments coming at them from all directions. For me, however, and hopefully the same goes to anyone else out there applying for this position, the nonstop flow of requests was exhilarating. I felt that I had really earned my place in the Department and that everyone in my office trusted me to take on challenging tasks and complete them with thoroughness and efficiency. It is for this reason that whenever someone asks me to pick out my favorite part of the internship, I never waver in expressing my appreciation for the amount of responsibility I was given. Nothing could have made my time there more rewarding, and I had never felt like I was making more of a difference in a job than I did this summer.
While I could easily go on for pages about everything I had the chance to experience, there are a few projects that I covered while interning that I think best exemplify the responsibilities to which I refer. I took on a leadership role preparing for two important multi‐agency activities. The Pacific Islands Engagement Tour brought U.S. representatives of Diplomacy, Defense, and Development efforts together to promote U.S. engagement and a sustainable future in the South Pacific. Likewise, the Department's participation in the Pacific Islands Forum, led by the Secretary of State, demonstrated enduring U.S. commitment to the Pacific region and, through concrete actions, deepened the bench of stakeholders committed to the Pacific. To give an idea of the role I played in preparing for these events, for the Pacific Islands Engagement Tour, I took charge of the schedule and made briefing books, edited and drafted important papers, managed numerous requests for information, and cleared several dozen documents through Department bureaus. The level of organization and time management required for this task gave me an idea of just some of the responsibilities of experienced Foreign Service Officers. In the end, my team and I stepped up to the plate, making the trip a smart step forward in deepening U.S. bilateral relationships with Pacific Island countries.
I also had the opportunity to draft statements for Secretary of State Clinton, including messages to Australia, Vanuatu, Kiribati, and the Solomon Islands, and in response to a personal letter from Australian Foreign Minister Bob Carr. As the populations of many Pacific Islands are small, messages from the U.S., particularly from Secretary Clinton, gain significant media attention. These tasks taught me the importance of remaining concise in my writing and closely following correct writing styles while finding creative ways to deliver the messages.
Finally, I arranged executive‐level consultations for three Ambassadors‐ Designate and managed the official swearing‐in ceremonies for two of them in the historic Treaty Room of the Department. The elegant ceremonies were a fitting conclusion to an excellent internship experience.
Now, I'm sure each and every intern has his or her own best and worst memories from working at the DOS. That being said, you will get as much out of the internship as you put into it, and when working for this agency, that message becomes clear as soon as orientation begins. So, if my stories and reflections caught your attention, you may be wondering just what it takes to be accepted and then to do well in this assignment. While I could offer endless tidbits of advice in response, there are three strengths that I believe helped me more than anything along my journey: networking skills, writing strength, and the ability to work well in a team.
Networking should begin as soon as you decide that you want to intern with the federal government. I cannot stress enough the importance of asking for guidance from the OSU International Studies advisors and the DOS Diplomat in Residence for the Midwest; believe me, you won't regret taking this advice. Next, writing. This is by far one of the most important things you can learn to master before pursuing any government internship or job. The Statement of Interest can make or break your application, and it is no wonder, since I was asked to write papers, agendas, etc. every single day on the job. The lasting impressions you will make with a few well‐written essays will take you so far in federal employment. You must have the ability to write and present your ideas with poise, creativity, and aplomb. Writing efficiency, especially at the DOS, saves so much valuable time that would have otherwise been spent correcting mistakes and inaccuracies. Understandably so, publications will not be released until they are completed correctly, so the Department cannot have anyone impeding the process. Lastly, teamwork is important in any professional setting, and this one is no different. At the DOS, we constantly relied on each other for advice and honest opinions, and we had meetings daily. In order to succeed in this internship, you cannot be afraid to voice your opinions. After all, even as an intern, you take on the responsibilities of an officer, and you cannot fall down on the job.
Every internship is a step in the right direction, a step forward on the path towards most undergraduates' eventual goal in life: finding the right job. Many people spend their lives searching for something, namely employment, that makes them happy and prosperous. But now that you know what awaits you at the Department of State, you know what tools you need to get there, and you know how invaluable the experience will be, you should be pretty well prepared. Talk to those with connections, hone in on your writing skills, research, and be confident in your abilities. Good luck!"