Body
What are you doing now?
Shammas Malik update!  He won election to the Akron City Council in Ward 8 on November 6th, 2019!
"Folks - we won the election! I am incredibly honored to have the opportunity to serve my community on Akron City Council.
I want to express my deep and profound appreciation for the kindness of so many people over the last year. For the rest of my life, I'll never have to worry about falling into cynicism, because I'll always be able to hold on to these moments. This campaign has centered around a belief in something bigger than ourselves, and our collective ability to shape our surroundings into a stronger and more equitable community.
You have likely heard me talk about my mom and how she found joy in life through serving others. That idea and her example mean so much to me. In all of the work to come, in moments of happiness or frustration, I look forward to focusing on that joy, as we all try to do our best for each other."
Renée Bishai has joined the CCWA Team as the Director of Global Fluency Training!  Renée enthusiastically jumped into her new duties on September 5 and is already training professionals in the region on how to work effectively with colleagues from other cultures.  Renée's extensive work at the Ohio State University, both through the Office of International Affairs and the Multicultural Center, has allowed her to interact with international students, faculty, and staff from more than 50 countries. Renée's expertise in intercultural training, her education in international affairs, as well as her extensive work and travel in Europe, the Middle East, and Asia make her an excellent asset for CCWA and for our region.  Please read her entire bio below to get a glimpse into why we are so excited to welcome Renée. 
---
Rob Kibler
(Secruity & Intelligence/Psychology '12) currently serves as the Chief Operating Officer of Ohio Sleep Treatment, Health Management of Central Ohio. In his role Rob oversees the day to day operations while also focusing on business development strategies that align their brand with other medical professionals that are passionate about patient-centered sleep care.
---
Ishrat Sanjida (BA International Studies) graduated with a major in International Relations & Diplomacy and minor in Human Rights from the Ohio State University in May of 2018. While an undergraduate student, she participated in many activities including the U.S. State Department Internship Program in Trinidad & Tobago, Washington Academic Internship Program, a study abroad in Nicaragua as well as leading several social justice, Buck-I-Serv trips across the midwest. Ishrat also served as the liaison for the Education Abroad program to the International Studies department, giving presentations to undergraduate students interested in studying abroad.
"After completing the John Glenn Fellowship and graduating from OSU, I returned to D.C. to pursue an internship at International Research & Exchanges Board (IREX). Upon the internship completion, I was employed full time by the Mandela Washington Fellowship for Young African Leaders. I enjoy supporting a program which advances the U.S. and Africa relationship and have been developing new skills through my job. My goal in the next two years is to develop expertise in the area of public diplomacy through pursuing higher education, which I hope to apply to further advance U.S. foreign relations in the years to come.
---
Sabrina Hersi Issa (BA, International Studies, Women's Studies, and Political Science) is a human rights technologist committed to leveraging technological innovation as a tool to unlock opportunity and dignity for all. She is the founder of Survivor Fund, a political fund focused on championing the rights of survivors of sexual violence.
As Chief Executive Officer, Sabrina leads Be Bold Media a global digital agency that works with organizations and campaigns on strategic transformation initiatives, policy innovation and movement-building. The firm leads award-winning innovative work building technology and media for healthcare, press freedom, humanitarian relief and refugee services and produces the Movement Security Summit, a digital security summit for movement technologists. She organizes The People's Iftar, a campaign to gather community and raise funds for grassroots organizations serving Muslim communities and Rights x Tech, a gathering for technologists and activists.
Sabrina is a contributor to NBC News, writing regularly on technology, power and human rights and her work has been featured in the Washington Post, USA Today, National Public Radio, The Guardian, Stanford Social Innovation Review, The Nation, Colorlines, Levo League, Columbia Journalism Review and other outlets. As a fellow at the Roosevelt Institute, Sabrina worked on issues related to technology, human rights and humanitarian disasters. She has worked for Afghans for Civil Society, Oxfam America, NBC News and National Public Radio.
---
Shammas Malik studied International Studies and Political Science at Ohio State. After finishing his undergraduate degree, he went on to graduate cum laude from Harvard Law School. He is currently running for Akron City Council, Ward 8, Akron, Ohio. Born and raised in Akron's Ward 8, Shammas attended Firestone High School and participated in the IB program, which helped him earn a scholarship to The Ohio State University. 
After finishing his law degree, Shammas moved home to Akron to make a difference in the community that made such an impact on him. Shammas has spent the past two years as an Assistant Director of Law in the City of Akron Law Department, working on a variety of issues including economic development, public safety, and the opioid epidemic. He has worked with councilmembers on drafting and implementing legislation, including Akron's comprehensive non-discrimination ordinance.
Shammas is running for Akron City Council in Ward 8 in order to help build a stronger and more equitable community. He hopes to focus on the core of what local government does - public safety and infrastructure - and to work at improving economic opportunity and education.  Shammas has been endorsed by Mayor Dan Horrigan and current Ward 8 Councilwoman Marilyn Keith.
Shammas is also involved in a number of community organizations, including Torchbearers and the Akron Bar Association. He enjoys watching Cleveland sports, running, and binge-watching TV dramas.  
Learn more about Shammas and his campaign at the Malik for Akron website and watch his interview on Youtube!
---
Maria Hadden graduated with a BA in International Studies and a minor in Spanish. She is the founder and Executive Director of Our City Our Voice. She also was recently elected as Chicago's 49th Ward Alderwoman.
Learn more about Maria and her campaign at https://www.mariafor49.org/.
Learn more about Our City Our Voice at http://www.ourcityourvoice.org/.
---
Rosa Ailabouni graduated with majors in French, International Studies, and Political Science. She is an international strategy consultant at Booz Allen Hamilton. Ailabouni advises Fortune 500 companies, U.S. government agencies, and governments and non-profits in nearly a dozen different countries.
 
---
Layla Banaie graduated with majors in International Relations & Diplomacy and German. 
"Soon after graduating, I moved to Germany for my Fulbright English teaching assistantship, where I taught at a middle school for one year. Once I came back to Columbus, I wanted to continue teaching and interacting with diverse populations, so I started volunteering at US Together, teaching their citizenship classes. After two years of volunteering, I was hired on as an employee!  I still teach citizenship classes, but I now also work as the organization's volunteer and donations coordinator.  In 2017, I decided to go back to school to pursue my Master in Public Affairs through OSU's John Glenn College of Public Affairs.  I will be graduating this spring!"
---
Adam Kong graduated from the Ohio State University in 2013 with a BA in International Studies and Mandarin.
Following graduation, he was awarded a Fulbright Grant to teach English in Taiwan and completed a Masters in Public Administration at Columbia University before joining the State Department. He was previously a Vice Consul at the U.S. Consulate in Lagos, Nigeria and is presently the junior Economic Officer at the U.S. Embassy in Doha, Qatar.
---
Kevin Rachlin is the Director of Public Policy and Government Affairs at InterAction, an alliance of U.S.-based relief and development organizations. Kevin leads InterAction's advocacy efforts to the US Government to advance the policy priorities of InterAction and its NGO members. Kevin joined InterAction from the Basic Education Coalition, where he served as the Director of Government Affairs. In this capacity, he was a leader in legislative and policy formation for the global education community, engaging deeply with other advocates to pass the Reinforcing Education Accountability in Development Act in 2017.
Prior to his tenure with the Basic Education Coalition, Kevin spent nearly 7 years working for J Street, a pro-Israel pro-peace advocacy organization in Washington serving in multiple roles, including the organization's Deputy Director of Government Affairs, spearheading advocacy efforts on Capitol Hill, and Deputy Chief of Staff. Kevin also sits on the Board of Directors for Kids4Peace, a global movement of youth and families dedicated to ending conflict and inspiring hope in divided societies around the world, and is an Arlington County Government Commissioner.
A native of Dayton, Ohio, Kevin received his MS in Global Health and Medical Policy from George Mason University. He received his duel BA from The Ohio State University in Political Science and International Studies with a focus in Security and Intelligence and a minor in Hebrew. He lives in Arlington, VA with his wife, Jennifer, two daughters and dog.  
---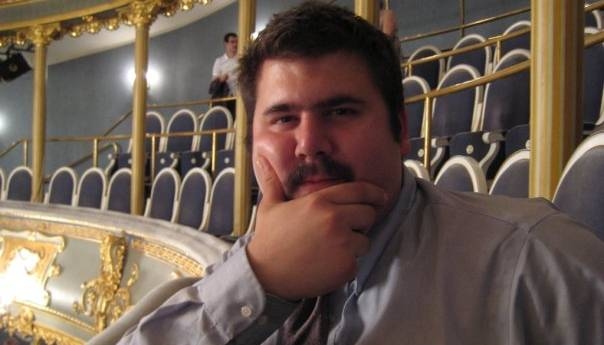 Nick Marconi graduated in 2008 with Honors and Research Distinction in International Studies, focusing on Security and Intelligence. He is currently a Graduate Research Associate in the Department of Agricultural, Environmental and Development Economics, working towards his master's degree. Nick's research involves fair trade and organic labeling. He is currently researching the organic market under the European Union's Common Agricultural Policy at the Czech University of Life Sciences in Prague.
The opportunities I've had to teach and learn at this university are genuinely priceless. The Ohio State University has quite literally brought me the world, and I just can't imagine what my life would be like had I chosen another institution. — Nick Marconi
---
What did you do with your International Studies degree?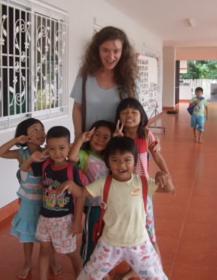 Megan Gordon (pictured with some of the children) interned at the House of Love, an organization directed at helping the tribal ethnic minorities of Thailand through daycare for children living in the slums, an orphanage, and HIV/AIDS education in tribal villages.
I worked in the orphanage in the evenings when the children who live there come home from school, spending time with them as well as doing English tutoring. I also worked in the fields to help plant their large garden which they hope will make them self sufficient in regards to food. — Megan Gordon
---
What inspires you about the International Studies program?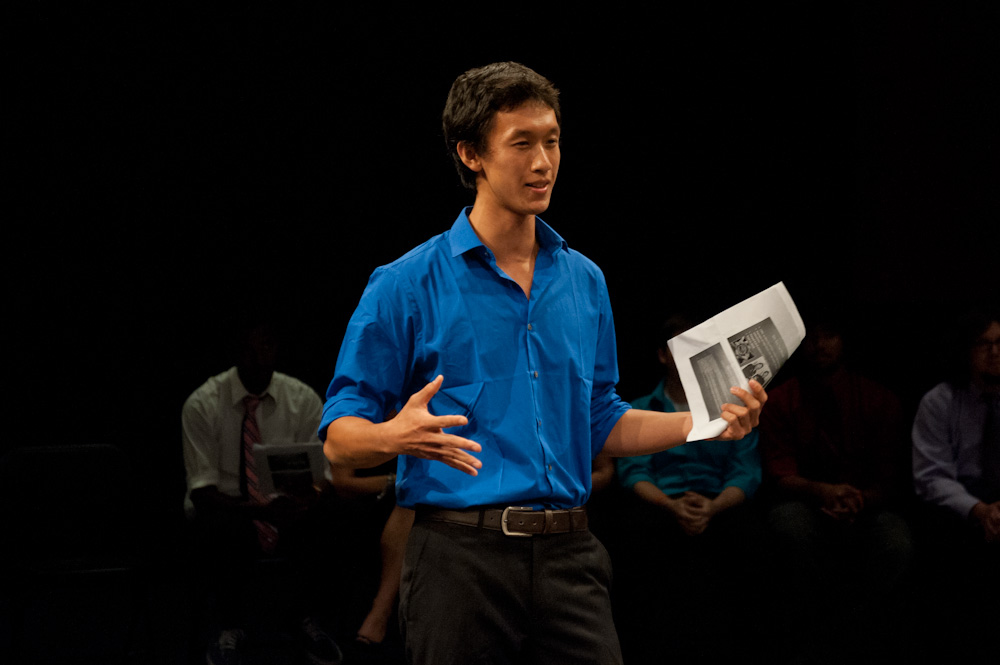 As our world becomes even more interconnected, it is important that we educate ourselves not only about domestic cultures but of those foreign to us. Through this cross-cultural education, we can understand each other and work our way towards peaceful collaboration and understanding. International Studies at Ohio State teaches students the importance of this and encourages us to look for careers that take us past our borders. — Adam Kong
---
What was memorable about the International Studies program?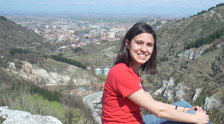 Studying abroad and applying my knowledge in a different part of the world inspires me the most about the International Studies program. The IS program coupled with our Study Abroad programs creates a memorable and educational experience. I'm also inspired by the professors who show passion for their subjects, which makes class time not only intellectually stimulating, but exciting at the same time. — Julia Barham
---
Why did you choose to major in the International Studies program?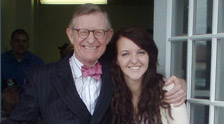 It has always been my dream to travel the world while working for our government to improve the way America and her people are perceived and accepted. — Megan Swillinger