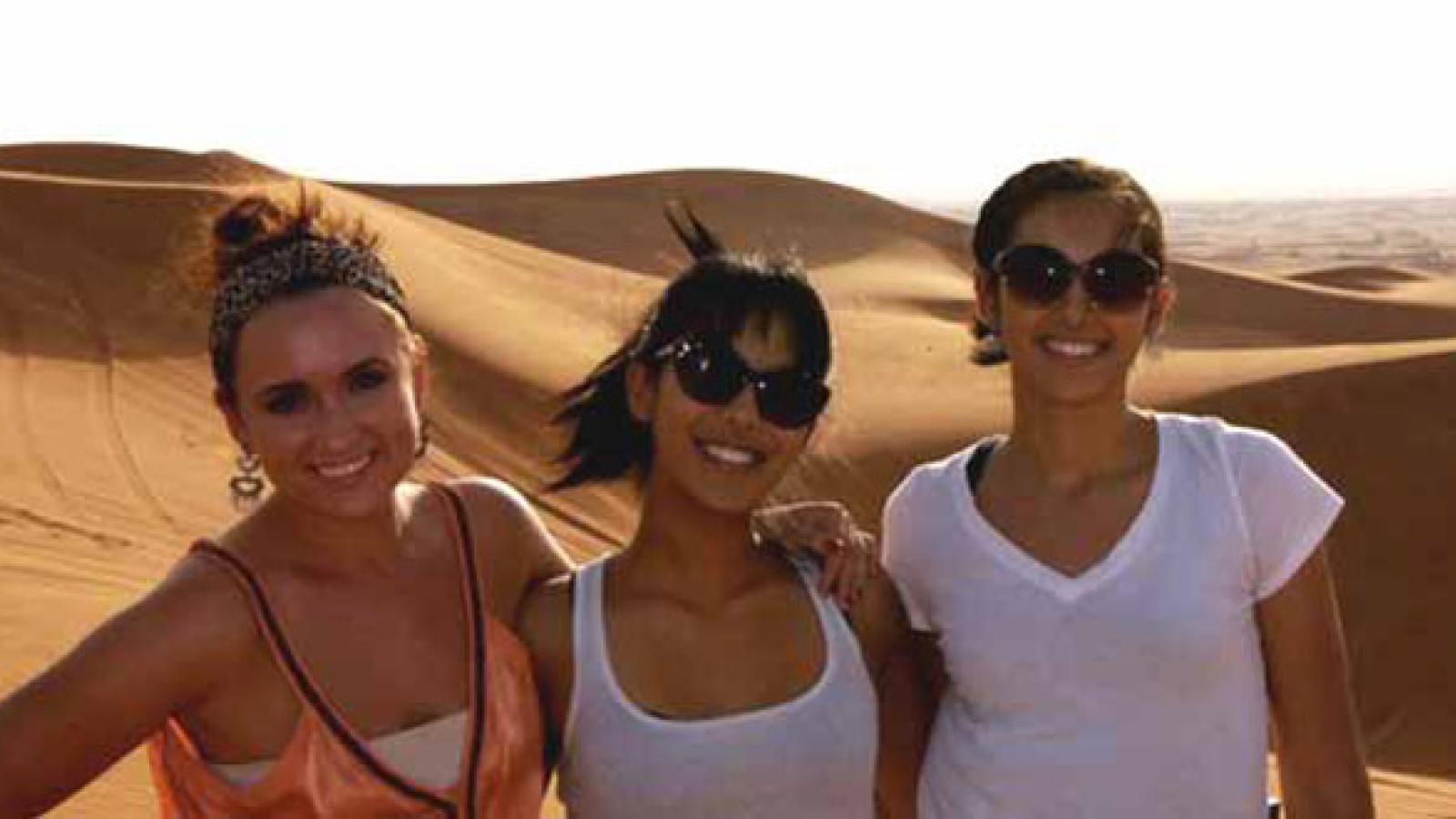 Body
Anya Ursu is from Ukraine and is a double major in International Relations & Diplomacy and Journalism. She received a Clinton Scholarship to study abroad in Dubai, in the United Arab Emirates.
"I spent last summer studying at the American University of Dubai. I was honored to have been chosen as one of ten Clinton Scholars, which provided me with a full tuition and housing award.
Stepping off of the plane in Dubai International Airport, my head spun. Did I really just travel over 7,000 miles to a place where I don't speak the language, don't practice the religion and know absolutely no one? All of those questions were answered far too quickly as my eyes swam through bundles of abayas, hijabs and burkas.
The Middle East is a place that I have always respected and loved from a distance, so the chance to visit for the first time was surreal. I spent my days making friends from all over the world, studying Middle Eastern economy and politics, enjoying the incredible nightlife and doing incomprehensible amounts of sightseeing.
Dubai is a city of superlatives. It is home to the world's tallest building, the Burj Khalifa, as well as the world's only seven star hotel, the Burj Al Arab. Along with the largest indoor ski resort, Dubai is home to the biggest shopping mall in the world.
Although Dubai comes equipped with plenty of Ferraris, Lamborghinis, and Sheikhs (royals) who drive them, it is much more than its over-the-top reputation gives it credit for.
What I loved about Dubai the most is that much like the United States, the people come from all over, each with their own story to tell, yet one common love for the beautiful city. The UAE is a tax–free nation, which attracts many expats for work opportunities. Expats make up around 80% of Dubai's population, driving a movement called Emiratisation, which includes government incentives for the local population to have larger families and for companies to hire more locals.
Almost everyone in Dubai speaks English, although Arabic remains the national language. The people are extremely warm, and are just as curious about you as you would be about them. I have made friends that I will keep for the rest of my life in Dubai, along with my roommate at AUD, Amina, who is originally from Algeria and remains one of my very closest friends.
The best part of my story is that my memories didn't end the day I boarded my plane back from the United States. Because of my experience in Dubai, I have found a place that I can comfortably say that I'm infatuated with. I knew the day I left that I wasn't leaving for good. I have changed my career goals and college plan so that I can graduate Summer 2012 and then move to Dubai to work and hopefully spend the rest of my life. I am currently in the application process and I am on track to securing a position before I graduate from Ohio State.
For those considering paying a visit to Dubai, whether it be for study abroad or a vacation, you have been warned, it will completely change the direction your life. Your ideas about success, the Middle East, and who you want to become will never be the same."