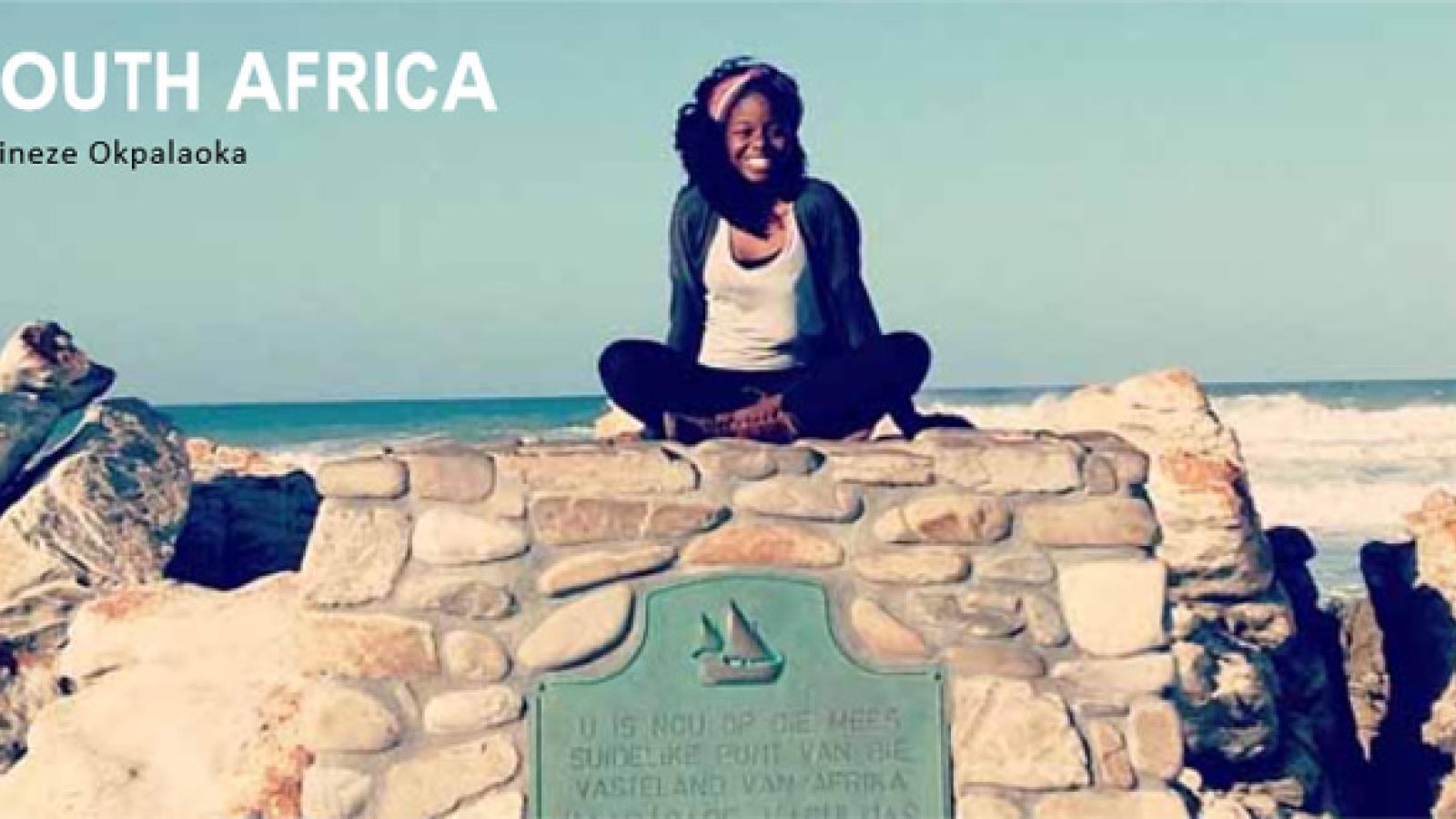 Body
Chineze Okpalaoka is a senior Development Studies major. She is a member of the Arts and Sciences Honor's program and is completing a minor in Global Public Health. Here is her study abroad story!
"A friend of mine once said, 'There should be a word for the simultaneous length and brevity of a single day. Each hour seems a lifetime but held together just an instant.' Time is tricky—both fleeing and endless—and this past month in Cape Town was a testament to that.
The end of May seemed so distant when I first arrived. I had been uprooted from my comfort zone and with my usual need for careful planning. I found it unsettling not knowing what to expect or who I could rely on for support. My arrival in Cape Town felt like a game of 'which of these is not like the others?', and I stood out like a sore thumb. It was as though I had been plopped right in the middle of some really good inside joke, just before the punch line—everyone's laughter a resounding reminder of the fact that I was not home. Culture shock, perhaps, but this was only the first of several instances in which I would feel this way. And each time, I learned to welcome the new and the unknown with a greater sense of confidence and familiarity of its presence. In no time, South Africa embraced me with her arms stretched wide; I never imagined that I could feel so comfortable so far away from home.
It's impossible to see the world and not come away with a few lifelong souvenirs—lessons that I will carry with me into every area of my life. A friend of mine asked me just the other day to describe my trip in one word. I couldn't. How could I condense the wealth of my experience into a single word? A one dimensional expression just wouldn't do justice to Cape Town's complexity. One word could not contain all of the personal growth I had experienced in such a short amount of time. Still, if I had to detail what I learned from my time here, without talking for hours as I probably could, I would say this: With my own eyes, I finally witnessed the beauty of this country and its people that I had only heard about for so long. South Africa rekindled my passion to see this continent realize her true potential.
'Worrying often gives a small thing a big shadow.' At some point I developed a steadfast determination to release fear and welcome challenges. I accepted each situation for what it was, and refused to linger in doubt for more than a passing moment, surprising even myself.
I am capable of doing so much more than I often give myself credit for. It takes a certain measure of bravery (that I did not know I possessed) to willingly throw yourself outside of your comfort zone. If anyone had told me at the beginning of this year that I—lover of comfort and a friend to routine—would fly alone to the tip of Africa where I knew not a single soul, make valuable friends and connections, and single‐handedly navigate Cape Town (suburbs, city, townships and all...), I would not have believed it. Now, I know I would not have had it any other way.
Humility. Somehow, my personal problems that I used to be so fixated on seem so petty in the grand scheme of things. South Africans, especially those in the townships, embodied a strange medley of blatant suffering coupled with unwarranted hope and optimism.
Culture is beautiful and history is very telling, but beneath our differences lie some common threads of humanity—enduring hope, the ability to show compassion to your fellow man, a desire for truth and justice. We are all very alike and still not so alike. And no matter where you go in the world, something as simple as a genuine smile can be shared and understood by all.
One month is not nearly enough time to experience South Africa for all she has to offer! I am so thankful to TB/HIV Care Association (THCA) for this remarkable opportunity.
Initially, I did not know what to expect from working with them. All I could think of on my train ride to my orientation were some of the veteran interns and their horror stories of unpleasant colleagues, dull, long days, and warnings that I should expect to work my way up from paper work to perhaps any amount of hands-on experience. My fears were immediately dispelled as I entered the THCA head office, embraced by one of my cheerful, warm supervisors. From that moment on, I was sure that the TB/HIV Care Association was exactly where I needed to be. I was placed at the TB/HIV Care Association, through a larger internship placement agency in Cape Town called Volunteer Adventure Corps (VAC). THCA is a nonprofit organization funded both by national supporters like the South African Department of Health, and international entities, such as the CDC and USAID. TB/HIV Care Association, like many organizations, works to prevent the spread of HIV and TB by increasing access to diagnosis, care, treatment, and adherence. What makes THCA unique is that they have adopted an integrated approach to tackling these frightfully common diseases. Research has shown that because of the prevalence of TB in South Africa, most people who test HIV positive also have or will have TB. The goal of this organization is to provide integrated treatment and prevention methods in such a way that parents with both TB and HIV receive their counseling, medication, and treatment in conjunction, so as to reduce confusion, frustration, and therefore lack of adherence. THCA is a multifaceted organization built from the ground up. It is made up of community care workers who make door‐to‐door visits within the townships and ensure that THCA parents are adhering to their treatment. It is made up of managers, administrators, trainers, and supervisors, who ensure that the system is running as it should.
Never mind dull days; I immediately hit the ground running—immersed in the heart of field work, alongside the tireless home-based care providers who are literally the engines that keep this organization running. In just my first three days, I worked at a community health fair in one of the townships where we provided free diabetes, blood pressure, TB, and HIV screenings, as well as polio and measles vaccinations for children under five. I must have taken upwards of one hundred blood pressures in just my first day alone. The residents of Imizamo Yethu Township flooded the Iziko Lobomi Community Center, keeping us on our feet from opening at 9am to closing at 4pm. Over my next few weeks, I gained so much exposure to the multifaceted nature of what it means to be an effective NGO, and I only hope I was half as impactful to THCA and the people I worked with as they were to me. 'No man is an island entire of itself'; it takes a team of dedicated individuals and a special kind of synergy to make lasting change in the community. I was blessed with the opportunity to work both on the field in townships and in the head office where I observed the inner workings of the organization. In just a month I assisted with data entry and other necessary office jobs, accompanied community care workers on their home visits, worked at a community initiative to offer free screening and primary health to those who need it, participated in training sessions, learned more than I had ever known about TB, HIV, and Medical Male Circumcision (MMC), practiced facilitating information sessions for community members, and so much more. Most importantly, it was the people I met that made this experience so meaningful. Along the way, every staff member I met was so kind and helpful, and willing to share a part of their daily experiences with me. The locals I interacted with inspired me with their positivity, resilience, and hope.
Part of what I loved about interning through Volunteer Adventure Corps was that not only were we immersed in South African culture, but we interacted with people from many other backgrounds as well. All VAC interns live with people from universities all over the world. My house was filled with people from other South African provinces, the US, the Netherlands, Germany, Australia, Brazil, and elsewhere! We learned from each other's differences, and bonded over similarities and new experiences together. I loved VAC for giving me the independence to explore South Africa however I wanted, while also providing a strong support system in case I needed it. After work and on the weekends, the interns and I did almost everything Cape Town has to offer. We had high tea at Mount Nelson, attended weekly Xhosa language classes, took a cable car up Table Mountain, hiked Lion's Head, visited the District Six Museum, paraglided off Signal Hill, traveled to the Cape Agulhas (the southernmost tip of the continent), went on a weekend safari, and a bunch of other adventures I've probably forgotten to mention.
I wanted to come to Cape Town and work with the TB/HIV Care Association to confirm my plans for my future. Undoubtedly, being here and seeing so much has affirmed my love for working with people and empowering them to reach their full potential (particularly young girls who, whenever I worked with them, left me with a smile on my face and a burden in my heart to return soon and do more). In the same token, this experience has given me quite a lot to think about. I have seen injustice—startling poverty juxtaposed with immense wealth built on the backs of those who cannot afford to support even themselves. I can never say I understand every kind of pain that people suffer, but I do feel an obligation to extend my purpose and my blessings beyond myself as a helping hand to those in need. I'm not quite certain what future path will allow me to do so, but another lesson I learned here is not to look so far ahead that you forget the importance of even these small, present moments.
I am sittng in the THCA Head Office now, seven minutes to the end of my last day, and it is finally hittng me that tomorrow I won't wake up to Devil's Peak outside my window; I won't rush to the train station with buttered toast for breakfast, hanging from my mouth; I won't stand shoulder to shoulder on the crammed rush hour train into the city; I won't spend my breaks bargaining in the street markets for beautifully handcrafted works of art; oceans instead of mere phone calls will separate me from my new friends...I can't help but feel sad, like I'm losing something precious, but I am excited to see my family and old friends once again. And although today will be filled with many lasts and goodbyes, a larger part of me is certain that I will be back in South Africa again. It may be next year, or five years from now, but as my friend told me, 'Africa will imprint itself on your heart.' And it did. So I don't want to say 'goodbye,' but rather "see you later.' And hopefully later will be some time soon. Until next time, Cape Town."