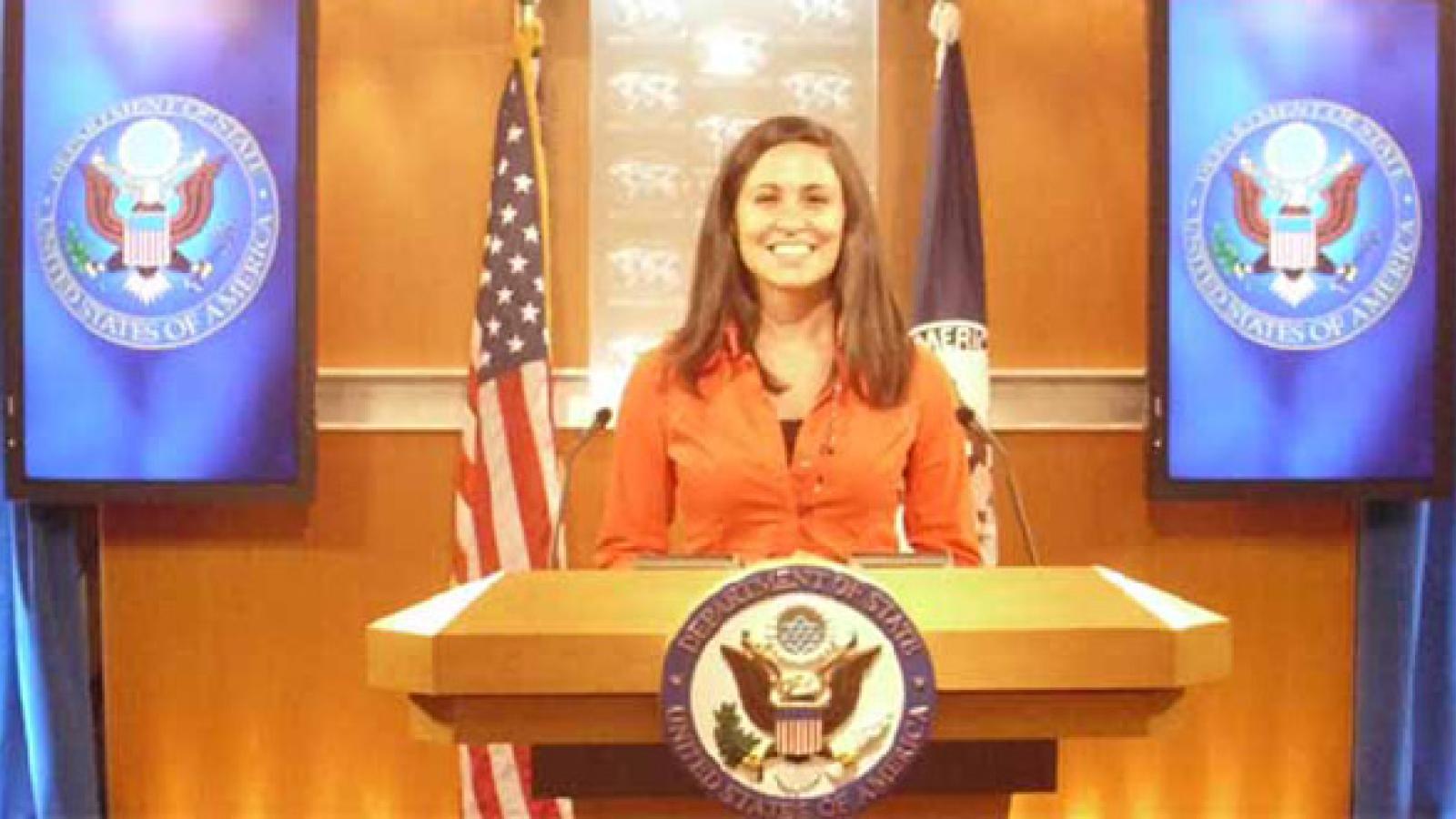 Body
Julia Barham
Julia Barham is graduating this spring with majors in Security & Intelligence and Spanish. She will begin a position in her field upon graduation. Last summer she participated in an internship with the U.S. Department of State with the Bureau of International Narcotics and Law Enforcement Affairs. Here is her story.
"The summer of 2010 was the time of my life. After learning that I would be interning with the U.S. State Department in Washington, D.C., I couldn't help but ponder what type of work I'd be assigned or what influential people I'd have the opportunity to meet. The mere thought of living in D.C. for the summer presented an added bonus, and I soon began to make a list of every museum I needed to visit before my departure. Despite constantly imagining what my life would be like as an intern, none of my daydreams could have prepared me for what was in store.
Prior to reporting for work in mid-June, I received little information about my duties as an intern. The only correspondence I had included a letter stating that I was assigned to work within the Bureau of International Narcotics and Law Enforcement Affairs (INL). To be honest, I'd always envisioned myself working in intelligence analysis, so I knew I would be out of my element working on foreign policy issues. Any fears I experienced were soon allayed by my new colleagues who immediately treated me with kindness and respect, while providing a strong support network. On my first day, they sent me to represent the State Department at a money laundering conference at the World Bank, which became the impetus for my collection of professional nametags that now serve as mementos.
Each day, my work evolved into exciting projects that were making a tangible difference in U.S. foreign policy worldwide. I would often pair with another colleague to represent State at meetings where other federal agencies, branches of the military, and members of the intelligence community were in attendance. I worked on various tasks involving visa procedures, human smuggling, terrorist financing, government corruption, and wildlife trafficking. And those are just to name a few. The greatest challenge of the summer was acclimating to the seemingly endless list of acronyms and government jargon, but even that became second nature after several weeks.
I also had the responsibility of coordinating several events and meetings between diplomats. On one occasion, I was given the responsibility of communicating with the Austrian Embassy to set up a direct meeting between their Ambassador to the U.S. and the Assistant Secretary of INL. A week later, I was one of four guests allowed to attend the meeting. Another responsibility I received was to write a speech for my supervisor on transnational illicit threats in Southeast Asia. Several months later, I received a thank you e-mail with a hyperlink to the final speech he'd given in Taipei.
As an intern at State, I also had the opportunity to visit the Pentagon, attend a National Security Council meeting at the White House Conference Center, and hear Secretary Clinton speak on my birthday. Throughout the entire ten weeks my colleagues were extremely supportive and propelled me to consider a career in public service by exposing me to their work and allowing me to use my skills on priority projects. To this day we maintain contact and their encouragement provides motivation during my search for employment.
Though it goes without mentioning, living in Washington D.C. allowed me to be a tourist each weekend I was there. After lucking out with awesome roommates after answering a blind ad, I soon crossed off all of the museums on my list and then some. The District is perfect for those who prefer to have a social life during the day and for those who prefer to experience their social life at night. It also didn't hurt to be in a city where so many great minds join forces in the name of public service. Within ten weeks I'd met the first female Secretary of State Madeleine Albright, former Bush adviser Karl Rove, and political pundit Tucker Carlson. One of my most favorite memories, however, was experiencing the Fourth of July fireworks on the National Mall.
As I approach the end of my academic career, I am entirely grateful that I had the opportunity to intern with the U.S. State Department. Due to a summer of exposure and excitement, I am now aware of dozens of other employment positions that I would have never known about, and I opened my mind to work in foreign policy as a career. All of my experiences were influential and solidified my desire to return to Washington D.C. upon graduation in the spring.
The best way to tell if something is worthwhile is by asking yourself if you would do it all over again. If given the chance, would I intern again with the State Department? Absolutely."
Learn more about internships with the State Department.